Disease information
Australia has a long history of freedom from the major animal diseases such as foot-and-mouth disease and avian influenza H5N1.
However this enviable status is increasingly threatened by international trade, the movement of plants, animals and people across the globe and the uncertain impacts of climate change. These are a major threat to Australia's livestock and aquatic industries and an outbreak could impact on our access to export markets and undermine livelihoods.
Australia's animal health status
Each year Animal Health Australia  publishes Animal Health in Australia,  a series of annual reports delivered to the World Organisation for Animal Health (OIE) providing a comprehensive summary of Australia's animal health status and system. Download the Animal Health in Australia 2017 (pdf - 9 MB) or view the individual chapters covering Australia's terrestrial and aquatic animal health below.
Notifiable diseases
Notifiable diseases pose a real threat to Australia's animal health status so it is important to understand what is meant by a notifiable disease and what to do about it.
Notifiable diseases include:
any of the known exotic diseases
a variant (non-endemic) strain of an endemic disease
an endemic disease occurring in a severe outbreak form – meaning a response  is required to prevent an epidemic
a serious infectious disease of uncertain cause, which may be a new disease.
The Australian Government Department of Agriculture and Water Resources maintains a national list of notifiable animal and aquatic diseases on its website which is regularly updated. Below are links to lists of diseases for animals and aquatic species.
Have you spotted anything unusual?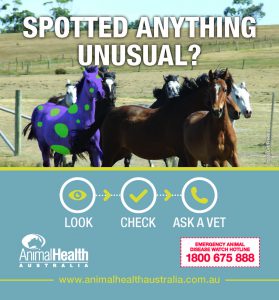 Producers can play a key role in identifying suspicious diseases in their livestock or flock.
Animal Health Australia's Spotted anything unusual? campaign reminds producers to be on the lookout for symptoms of unusual or exotic livestock diseases that have the potential to devastate Australia's livestock industry and impact human health.
Producers should always be on the lookout for signs of disease and if they see unusual symptoms they should report them straight away. Early intervention is vital in an emergency animal disease outbreak.
Suspicions of a serious livestock disease must be reported to your local government vet, your own private vet, a stock inspector or call the free Emergency Animal Disease Watch Hotline on 1800 675 888.
Go to the Farm Biosecurity emergency animal diseases page for information about reporting unusual symptoms.
Related links
Page reviewed: 17/07/2018