News
2017 biosecurity survey results are in!
08 Sep 2017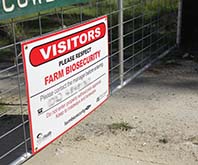 Farm Biosecurity, Media release, 11 August 2017
The level of understanding of biosecurity amongst Australian producers has increased, with more producers controlling weeds and managing pests and diseases of crops and livestock.
That's according to an Australia-wide survey of both crop and livestock producers to track trends in attitudes towards and awareness about farm biosecurity.
Without any prompting, 56% of all producers surveyed said that 'controlling diseases, pests and weeds' related to biosecurity. There has been a stepwise increase from the 37% who reported this in 2010 and 47% in 2013.
These findings are just some of the many interesting results from the 2017 Farm Biosecurity Producer Survey. The survey conducted phone interviews with 1,203 Australian crop and livestock producers to gain a better understanding of:
current knowledge and understanding of biosecurity
what biosecurity practices are being used by producers
where and how producers like to get information about biosecurity
monitoring habits and reporting of diseases, pests and weeds.
Conducted between May and June earlier this year and undertaken by independent researchers for Farm Biosecurity, the 2017 survey was designed so that results could be compared with similar results from surveys done in 2010 and 2013.

Rod Turner, General Manager for Risk Management at Plant Health Australia, said that's it's pleasing to see this change in the level of awareness and that having the results of three surveys was very valuable information.

"Having asked pretty much the same questions in three surveys, we can now see trends in the numbers and can be confident that the results are real," Rod said.

"The surveys also play a practical role by telling us where producers are looking for information, what they want to know and how they like to get it."

This important data will help Animal Health Australia and Plant Health Australia who jointly run the Farm Biosecurity program to develop strategies that focus on biosecurity awareness in areas the survey indicated might need to be improved.

A huge 'thank you' to producers who agreed to give their time and participate in the survey. Your views are greatly appreciated and will be used to help improve the Farm Biosecurity program to meet your needs.

Click here to view a summary of the survey's key findings.

&nbsp
Last reviewed: September 8, 2017
Back to all news