News
Monthly Catch-Up: Dr Mark Schipp
29 May 2018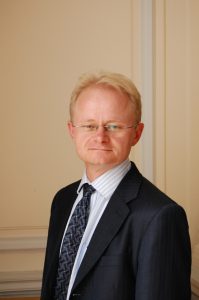 This month we caught up with Dr Mark Schipp, following his recent appointment as President to the World Organisation for Animal Health and his career highlights so far.
What does the appointment to OIE president mean to you?
Taking up the role of OIE President is an enormous privilege and opportunity.
The World Organisation for Animal Health (OIE) is the international standards setting body for animal health and welfare. It was established in 1924 in response to ongoing outbreaks of rinderpest, Australia joined in 1925. Thankfully, rinderpest was eradicated globally in 2011. Only one other disease has been eradicated and that is smallpox although the campaign to eradicate polio is entering its final stages and I am proud that Rotary International, of which I am a member, has worked very effectively to fund and deliver this eradication campaign. The next animal disease targeted for eradication is Peste des petits ruminants (PPR).
The OIE is a treaty level body that predates the United Nations. The OIE is one of three international standard setting bodies recognised under the WTO SPS Agreement, the others being its plant and food equivalents (IPPC and Codex respectively). The OIE has a formal relationship with FAO and WHO particularly in areas of common interest such as combatting the zoonotic diseases influenza, rabies and antimicrobial resistance.
The OIE aspires to bring to the global community animal health, animal welfare, veterinary public health, food safety, food security and the economic benefits which flow from these. These are lofty goals but with the global challenges that we face today, which threaten our continued quality of life, we need to aim high.
Becoming the OIE President is an opportunity to showcase Australia's achievements and approach to animal health and welfare. It provides us with an opportunity to shape the global agenda on animal health and antimicrobial resistance.
For me, it is also an opportunity to represent our region of the Asia Pacific in this international forum. Our region is the most populous and also the most productive in animal agriculture but often lacks a voice in international forums.
As a veterinarian from Australia I will be taking the opportunity to emphasis the important role we all can play in the global issues of animal health and welfare, food security and antimicrobial resistance.
What are the highlights of your career so far?
I have been very fortunate throughout my career.
I have been a government veterinarian since I graduated from Murdoch University in 1989, initially with the Western Australian Department of Agriculture and then with the Commonwealth.
Sir Walter Murdoch, the prominent Australian author and philosopher after which the university was named, once reflected on his inability to pursue studies in medicine: 'There are probably people alive, who would not be alive if I had been their physician.' I think the same can be said of me not entering clinical practice – there are probably animals alive today that would not be alive if I had been their veterinarian!
In W.A. I had the opportunity to work over most of the state as a District Veterinary Officer, some highlights were working in the pastoral region of the north-west and conducting a whale post-mortem investigation on a beached juvenile.
I then worked in export abattoirs in Western Australia, Victoria and Tasmania, mostly in small abattoirs which meant that I had to take a lot of personal responsibility, especially in the areas of animal welfare and food safety.
I came to Canberra in 1996 to work in the export meat program which was an exciting time of reform. I was working in the field of export certification when I was selected to take up an overseas posting in Seoul, South Korea from 2000-2003 and from there to Beijing, China from 2003-2006. This was an absolute highlight, to be working in Asia at a time of intense interest in the region. We had just commenced FTA negotiations with China so I would be regularly be briefing the Prime Minister and various Ministers as they came through. My children learnt Chinese and kept it up when we returned to Canberra.
On my return I was promoted to lead the export meat and certification program where I remained until the 2011 Indonesian live cattle event. Our Chief Veterinary Officer at the time, Andy Carroll had just retired and I was asked to act in the role which was a very busy period as we developed the Exporter Supply Chain Assurance System (ESCAS) which was applied initially to cattle exports to Indonesia and then to all our export markets for live cattle and sheep. Later that year I was confirmed in the role of ACVO.
Very satisfying work for me to date has also been to help improve veterinary services in developing countries which supports our broader development goals. Veterinarians play a much larger role than simply improving animal health outcomes. When veterinarians are engaged on livestock health in developing countries, they support better health outcomes for humans, they support gender equity and empower women and they allow a new generation to access education. When a veterinarian is engaged in understanding and combating emerging infectious and zoonotic diseases they ensure better human health. It has been a great privilege to contribute to this very meaningful work.
Also, as Australia's delegate to the OIE I have overseen the development of international trade rules which aligns with my main work of developing scientifically based animal health and welfare policy and advice. In 2012, at my first OIE General Session I was elected to the OIE Council representing our region and in 2015 I was elected as Vice-President of the OIE Assembly. In 2015 we were very successful at the OIE elections in getting 3 Australian experts elected to the specialist commissions, a level of representation not achieved by any other country.
What do you hope to achieve during your tenure?
The Australian Government places a high priority on protecting and strengthening international rules that guide trade, and actively encourages others to adopt international standards. During the tenure of the OIE Presidency, I hope to:
Increase member participation in standard setting and encouraging greater adoption and implementation of standards by trading partners. Although all 181 member countries of the OIE participate in its annual meeting, very few contribute to the standard setting process, so I am keen to help all OIE members become active participants.
There is concern that OIE members endorse international standards, but not take them up and apply them, so the OIE has initiated a project to investigate why the standards are not more widely implemented. It may be that some countries need to build their confidence and capacity in standard setting and implementation.
Improve the transparency and integrity of processes, for example those that lead to OIE acceptance of member country disease status' and improve accessibility to data that underpins official declarations. The OIE has improved dramatically since 2012 in transparency, accountability and governance, but more needs to be done to build confidence in the institution.
Improved transparency in OIE processes for recognising official disease status has a number of benefits, including improving our confidence in using the OIE's recognition of trading partners. It also has implications for improving the credibility of the OIE's official disease/risk recognition system, thereby improving the credibility of the OIE's recognition of our disease status. This vital work underpins the OIE's core role as a standard setting body.
Strengthening the veterinary voice in global discussions.
The global animal health policy environment is becoming increasingly complex and problems are presenting unprecedented challenges where global solutions must encompass the needs of a diverse range of stakeholders. The OIE is the international organisation for government veterinary services and I believe we have a lot to contribute to key global issues such as antimicrobial resistance and food security.
Veterinary services must be a strong, influential and effective contributor to One Health discussions, especially AMR, so that our concerns are central to the design and direction of global actions. For example, other international bodies are working to remove veterinary and animal agriculture access to antibiotics, I believe it is essential that we maintain access to antibiotics provided they are used responsibly. In this area Australia has a lot of valuable experience to share, and as President, I will be looking to work closely with the Director General to encourage a proactive, meaningful presence on these important issues.
Australia has also appointed an 'Accredited delegate' to the OIE, Dr Peter Finnin, who will provide policy contributions and interventions on behalf of Australia during the General Session to ensure Australia's position is still well represented while I am committed to presidential obligations.
What are your thoughts on the collective international animal health system?

The international animal health system relies on the veterinary services of each individual government, and some of these are weak and need support. I spoke to the CVO of one African country and asked why they were not undertaking surveillance and his reply was that if they leave the urban areas they are at risk of being shot! So, there are some very serious challenges that we do not experience in Australia.

The OIE sets international standards for trade in animals and animal products, it also records the animal health status of every member country. The global database on animal health is held by the OIE and is run on a very small budget with aged platforms and equipment. The searchable database (WAHIS) is currently being rebuilt. The OIE does not rely only on countries self-reports but also undertakes media surveillance and scanning to detect reports of disease that may not have been officially reported. It is anticipated that the new database will also have the capacity to store genomic data and the results of the OIE's annual antimicrobial usage surveys.

It is important that the international standards developed by the OIE do not act perversely and discourage true reporting of a country's animal health status. Countries that undertake surveillance and report disease in their animal populations should not be penalised for behaving ethically. There is still some work to be done in this regard which is reflected in the current rewriting of the avian influenza chapter.

The OIE also has a role in measuring the performance of veterinary services (PVS) to identify weaknesses or non-compliances in national veterinary services. This information then allows donors to support capacity building to strengthen veterinary services and animal health surveillance. This is particularly important for our region where we rely on the veterinary services of our northern neighbours to detect and report disease as part of our early warning and preparedness.

I want to model good behaviour internationally in this regard. Australia has strong veterinary services, we conduct surveillance and accurately report our disease and health status, we rely on this status to access export markets. Our animal health status is also the basis for our biosecurity system. Both trade and biosecurity rely on the international standards developed by the OIE.

&nbsp
Last reviewed: 31/05/2018
Back to all news