News
National Biosecurity Response Team Update
15 Apr 2019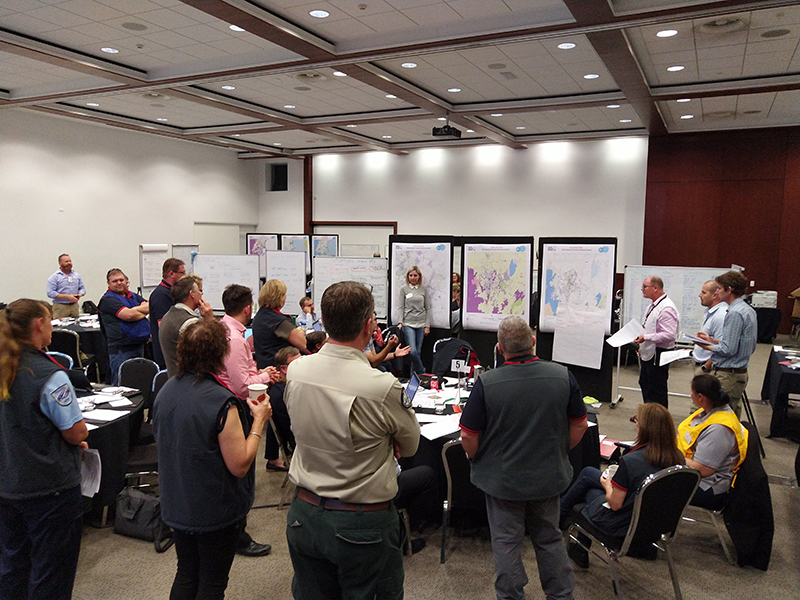 Exercise Crown and Anchor
NBRT members converged on Canberra from 25–28 March 2019 for Exercise Crown and Anchor. The exercise provided vital professional development and networking opportunities which increase Australia's biosecurity emergency response capability.
The overall aim of the exercise was to enhance the national ability to manage the response to a post-border biosecurity incident response located in Commonwealth places, with operations extending into an adjoining jurisdiction. Specific objectives were to
a) improve the capability of delivering an effective response to a post-border biosecurity incident in Commonwealth places; and
b) to increase NBRT member knowledge of the relevant legislation and arrangements for post-border biosecurity incidents in Commonwealth places with operations extending into the ACT or NSW.
NBRT members were asked to determine and carry out an appropriate response to one of two fictional incursions on a Commonwealth place, namely a Varroa mite detection in Jervis Bay Territory or a red imported fire ant detection at Canberra International Airport. Both scenarios required participants to work with representatives of the Australian Government Department of Agriculture and Water Resources and the ACT Government and work within the Commonwealth's Biosecurity Act 2015.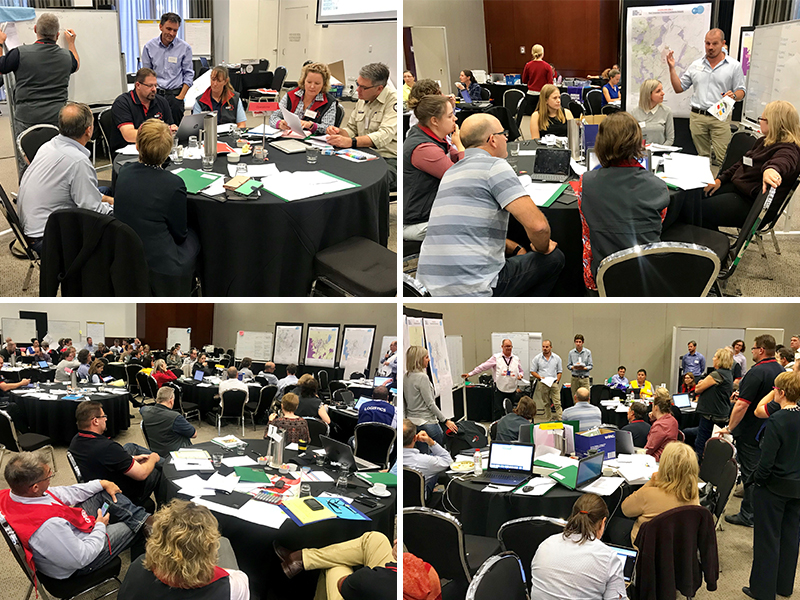 Scenario activities were enhanced by technical presentations from CSIRO entomologists on Varroa mite and red imported fire ants, and site visits to the ACT emergency operations centres, the Canberra International Airport and the Jerrabomberra training hives, where participants undertook bee surveillance activities including a sugar shake demonstration.
Pre-exercise activities also included guided visits by Australian Government staff to first points of entry (airports and ports) in Perth, Brisbane and Sydney for some NBRT members within these jurisdictions, an opportunity that was highly valued by those that were able to attend.
"The first point of entry site visit was very worthwhile. Thank you," said one participant, while another noted that "tours provided were excellent to give participants an idea of what was available and help considerably with situation awareness."
The exercise was regarded as a huge success by participants and observers alike, with the vast majority of participants indicating that the experience had significantly contributed to their response capabilities. "I did find it valuable. Always good to learn from experienced staff," a participant noted. Others also agreed that "the combination of being a response exercise and a discussion/workshop worked well as it allowed for skills and processes to be tested but also allowed time to analyse what works and what doesn't without the pressure of a 'real-time' exercise."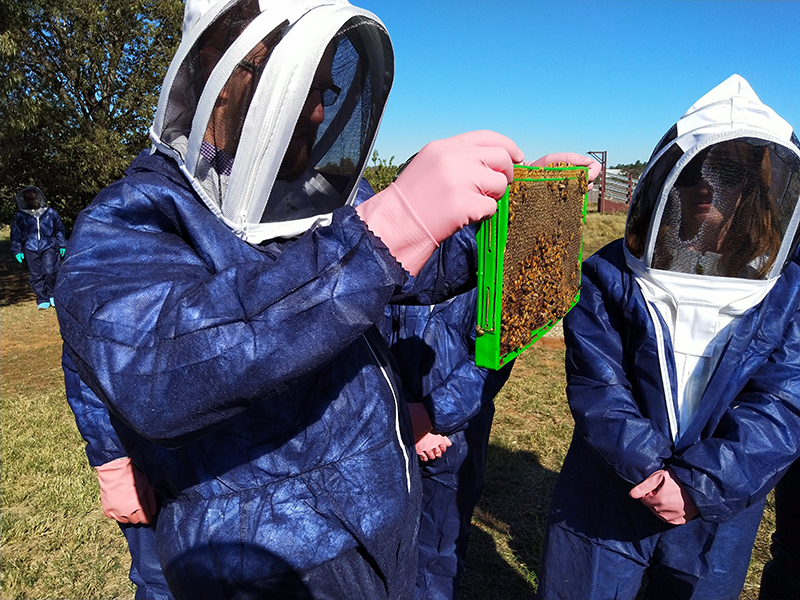 Further comments included "Team members are all highly capable personnel and have demonstrated during this exercise that they are more than capable of running a response in a Commonwealth place or combined location" and  "I think the mentor system worked exceptionally well in supporting participants but also allowing for observations to be made about improvements to how we conduct responses. The field visits were also highly beneficial and it would be great to see these happen more frequently within jurisdictions."
Another participant noted the exercise "highlighted areas for improvement for responses on Commonwealth land, particularly around legislative and policy arrangements. There was an excellent level of expertise for national emergency responses and IMTs." Participants also highlighted networking opportunities and subsequent exposure to the knowledge and experience of their interstate counterparts as a highly valuable aspect of the exercise.
"One of the greatest benefits will be the personal networks established which greatly enhances our collective capacity to respond to a biosecurity incident," said one participant.
Feedback indicated a need to have more Commonwealth plans and templates available, as well as supplying more scenario-related information in the lead-up to the exercise in order to be able to complete the expected outputs. Issues noted during the exercise included difficulty interpreting Commonwealth legislation and difficulties related to the use of Commonwealth IT infrastructure.
Further information about Exercise Crown and Anchor will be available in the Exercise Report, available later this year.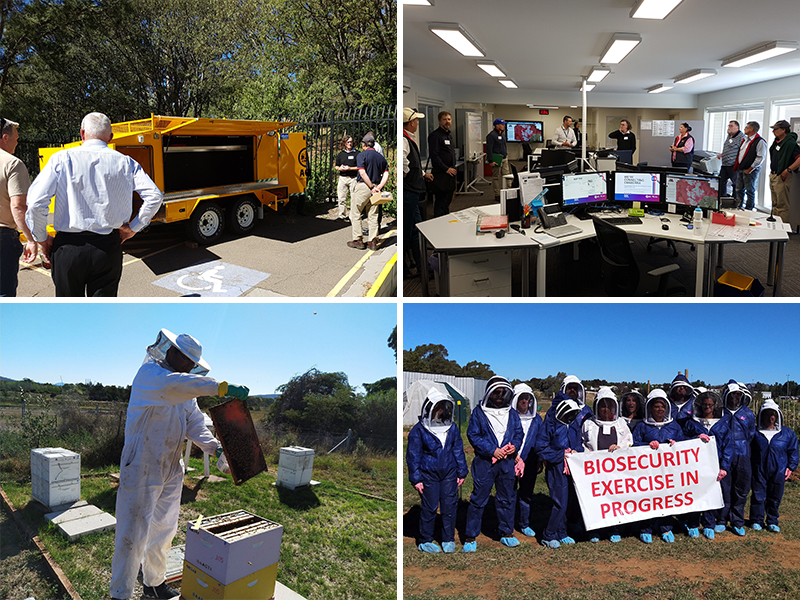 NBRT mentor workshop
There are currently two cohorts of NBRT members – a cohort of response personnel that can perform a range of response functions within a State Coordination Centre (SCC) or Local Control Centre (LCC), and a cohort of very experienced personnel, referred to as 'mentors', who may provide guidance and support to staff in an SCC or LCC and/or perform a functional role.
With the mentor role being a new one to the NBRT, a workshop was held to upskill NBRT mentors and further explore the role of a mentor in a biosecurity emergency response, which was considered highly successful by all participants. 15 NBRT mentors attended the exercise in late October 2018, with four NBRT incident controllers also attending.
The NBRT Advisory Group worked collaboratively with Tigertail Australia to develop and deliver the three-day workshop. The workshop aimed to equip participants with skills and techniques to successfully mentor other members and departmental staff within a biosecurity response, using tools such as the Mentoring Inquiry framework and the Herman Brain Dominance Instrument (HBDI). Mentors explored the key stages of mentoring during a response and also produced a mentor 'job card' to provide guidance and structure around the newly defined mentor role.
This unique professional development opportunity for mentors was very well received, with NBRT mentors appreciating the opportunity to get together to better understand the newly created mentor role.
Both participants and facilitators agreed that the working environment in a control or coordination centre, along with the pace of the work involved, create a unique challenge in developing a mentoring relationship. Such relationships are most often one-to-one and rely on a significant degree of mutual trust, though the response environment calls for flexibility in how a mentor approaches groups of mentees, how they remain in contact, and how formalised the arrangement is.
All participants indicated that the workshop was beneficial to their role as an NBRT mentor, having improved their understanding of the mentor role.
"[The workshop] ran well with what we were asked to achieve in our functional roles," one participant noted in feedback. "I felt I could mentor well in that environment, assisting with roles and guiding the team."
"I would hope for future workshops, we (now) have a clearer and common vision of what a mentor in NBRT is. This workshop has gone a long way to define an NBRT mentor," another noted. "I enjoyed working with my NBRT members and sharing ideas and experience," another participant agreed.
It was apparent to both facilitators and mentors how valuable it was bringing the mentors together, to develop further as a cohort and to enhance their skills.
Another specialised activity for NBRT mentors will be conducted in the 2019/2020 financial year.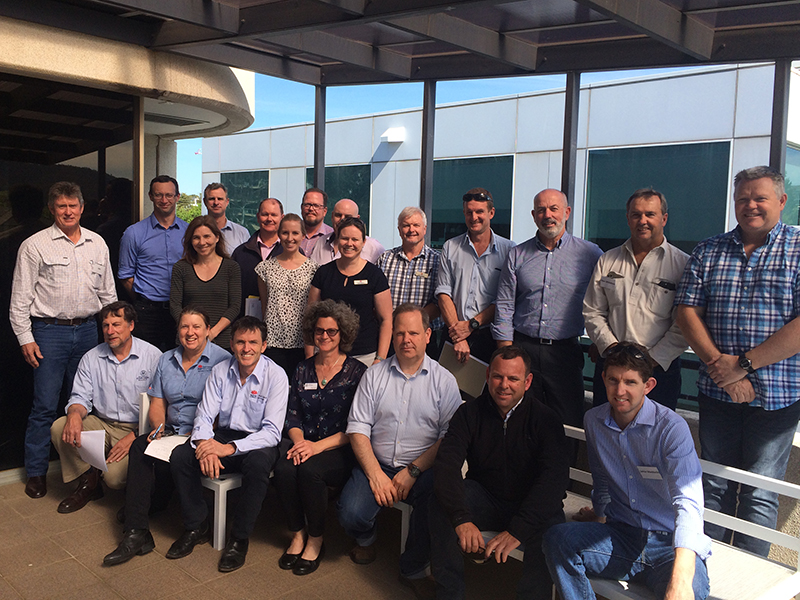 &nbsp
Last reviewed: 03/05/2019
Back to all news