News
Pigs should not 'pig out' on food waste
21 Jul 2017
Non-commercial pig owners, and even those with pigs as pets, are being reminded that whilst feeding pigs leftovers may seem like a great idea to reduce waste, what you are doing is potentially opening the door for a multitude of exotic diseases by inadvertently feeding your pigs swill.
Swill is food waste containing meat or any foods that have been in contact with meat, such as leftover vegetables on a plate from a Sunday roast, or even the leftover ham and cheese roll.
Citing the CSIRO's 2014 Australia's Biosecurity Future report, Animal Health Australia's (AHA) Biosecurity Manager, Dr Rob Barwell said Australia's peri-urban, non-commercial pig producers and owners have been identified as a potential source of an outbreak of foot-and-mouth disease (FMD), through swill feeding practices and their location near major ports.
"Unfortunately, non-commercial, peri-urban pig owners do appear to be a more likely source for an outbreak of an emergency animal disease like FMD and this is further reinforced in the knowledge that that the 2001 FMD outbreak in the UK started life at a piggery, due to swill feeding," Dr Barwell said.
"In addition to transferring agents that may cause FMD, swill could contain other exotic viruses such as African swine fever and Aujeszky's disease, all of which could have far reaching impacts on Australia's livestock industry.
Dr Barwell also highlighted that providing pigs with commercial-grade feed can be a more suitable option for the animals themselves.
"Approved feed is more nutritious for your animals. Reputable pig feeds contain essential nutrients for growth, and there are also specific feeds for the different stages of the animals' life cycle," Dr Barwell said.
For more information about swill feeding, including a detailed outline of what type of foods constitute swill, go to www.farmbiosecurity.com.au/livestock/pigs/feeding-your-pigs/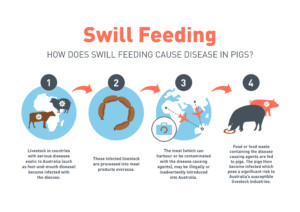 &nbsp
Last reviewed: July 21, 2017
Back to all news