AHA Events
Animal Health Australia (AHA) has two key areas for events; events run for AHA Members and the new event facilities for hire.
AHA Member and Industry Forums and events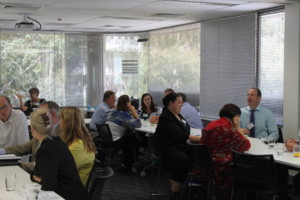 AHA hosts three meeting weeks per year. These weeks consist of a livestock Industry Forum and an AHA Member Forum along with AHA general meetings, training sessions or consultative group meetings.
These events provide our invited members the opportunity to consult with the AHA Board and management on national animal health system issues and the company's role, as well as the chance to address issues of importance to their jurisdiction or industry.
Our meeting weeks are held at our event venue in Canberra which is also available for hire by our Members and any other external organisations.
Click here to view the 2017 meeting dates.
Hire the AHA event facilities
Our newly renovated event facilities located in the heart of the city on Northbourne Avenue offer a variety of options for your next event. AHA can accommodate events for 8 – 110 people for everything from boardroom meetings, conferences and training workshops to cocktail events. Click here to view the AHA Events Flyer for more information.
Key benefits to using AHA events:
Modern, purpose built conferencing facilities
Quality audio visual technology and equipment
Venue options from boardroom to large conference room with well-equipped breakout spaces and kitchen facilities
Central location in the city close to public transport and parking options
A range of catering and accommodation options
Experienced and qualified event staff to assist in pre event planning and on the day
AHA Members – All AHA member organisations receive credit each financial year towards room hire fees of AHA's event facilities. To find out more, contact AHA events.
Whether you require space for a one hour board meeting, or a three-day conference with cocktail event, AHA can help!
Reviews
'Everything regarding this meeting at AHA was excellent! We will definitely use AHA meeting rooms again.' – May 2016
'The venue is excellent – many of the attendees commented on this.' – April 2016
'Our event ran very smoothly. Very impressed. The staff made my job much easier and I'm grateful for the assistance. Will certainly recommend organisations to use the AHA meeting rooms in the future.' – February 2016
Floorplan
Click here to view the floorplan of AHA's event facilities.
Contact
For more information, booking availability or a quote contact AHA events via 02 6232 5522 or events@animalhealthaustralia.com.au

&nbsp
Page reviewed: February 1, 2017