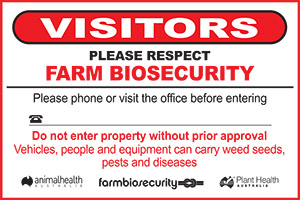 Farm Biosecurity gate sign
Purchases of gate signs cannot be refunded for change of mind, refunds will only be issued in the case of damaged goods.
Animal Health Australia (AHA) distributes Farm Biosecurity signs for farm gates as part of its Biosecurity Program.
If it can move, it can carry diseases, pests and weeds.
This is why people, vehicles and equipment pose a high biosecurity risk to Australian farms and should be managed accordingly.
Farm Biosecurity signs on all entrance gates can alert visitors to the importance of following biosecurity procedures on your property.
Please note: if you are a Queensland producer, amendments have been made to Queensland biosecurity regulation. One of these amendments relates to access point signange. Please click here for more information.
$40.00