Previous National BJD Strategic Plan 2012-2020
Animal Health Australia (AHA) managed Australia's National BJD Strategic Plan 2012–2020 on behalf of the beef and dairy industries, governments and veterinarians.This was superseded by the JD in Cattle Framework approach in July 2016.
The previous National Strategic Plan for 2012–2020
Changes to Australia's arrangements for preventing and managing BJD came into effect from 1 July 2012.
Australian governments and the livestock grazing industries reaffirmed their commitment to protect the north and west of the country, and the beef and alpaca sectors, from BJD while allowing dairy and goat producers greater control over how they manage the infection in their herds.
Changes to zoning
Control Zone and Protected Zones in New South Wales (NSW) and South Australia (SA) have been replaced by the Beef Protected Area (BPA).
The BPA contains a separate 'dairy compartment', which is defined as farms that supply milk to a dairy factory, and includes any land the dairy cattle have accessed.
Victoria and Tasmania, where many dairy herds are infected with BJD, have been re-classified as a Management Area. Beef producers in these states need to manage the risk of BJD entering their herds through a thorough risk assessment of animals they wish to purchase or agist.
Western Australia (WA) remains a Free Zone and the Northern Territory (NT) and Queensland remain as Protected Zones. Regulatory measures will continue to protect all susceptible species in these zones, and BJD will be energetically controlled or eradicated when detected.
The current MAP status of producers in CattleMAP, GoatMAP or AlpacaMAP will not be affected.
Figure 1: Revised BJD Zones/Areas from July 2012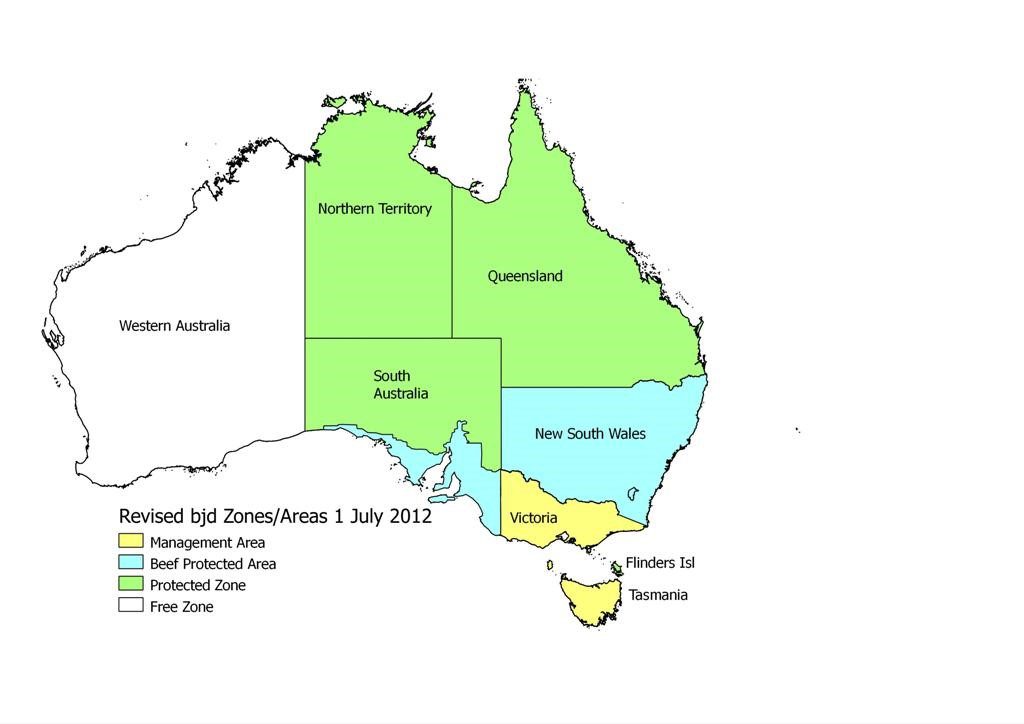 Management Area
The Management Area covers all of Victoria and mainland Tasmania, where the disease is well established in the dairy industry and there is a voluntary approach to limiting its spread. Producers in these areas need to manage their own risk using the tools available. Groups of producers can work effectively together to prevent the spread of BJD.
Dairy sector
The dairy industry continues to encourage dairy producers to voluntarily control and manage BJD through:
Beef sector
Eligible beef producers in the Management Area who want to protect their BJD status and to provide a measure of assurance should use the Beef Only declaration or the CattleMAP when selling and buying cattle.
Beef Protected Area (BPA)
The Beef Protected Area covers all of NSW and the southern agricultural regions of SA. The BPA was established because BJD among beef herds in the former Control Zones was rare. Because of the much higher incidence of infected herds in the dairy population, it aims to separate beef and dairy enterprises so that the different levels of risk can be managed.
Dairy operators in NSW or SA are included in the dairy compartment of the Beef Protected Area. The dairy compartment is not a defined geographical area. It encompasses dairies scattered throughout the BPA and covers all farms that supply milk to a dairy factory, including any land the dairy cattle access. Removing zones from NSW means that the location of herds in the state is now irrelevant.
The BPA will still require surveillance to detect BJD, especially on beef farms. We will trace movements of cattle to beef farms to monitor the possible spread of BJD from infected dairy properties.
Beef producers in the BPA who introduce cattle from a dairy property will need to make sure they are not introducing BJD.
Beef properties known to be infected or suspect will be placed in quarantine.
It is especially important to avoid buying cattle with a BJD dairy score of zero because they are considered high risk and offer no assurance of not having BJD.
Details of risk-based restrictions on cattle movement into the Beef Protected Area are available from:
Management Area and Beef Protected Areas movements
Cattle can be traded between the Management Area and the BPA, but remember that BJD arrives on farm with the purchase or agistment of one or more infected animals that look healthy and normal. For example dairy-cross animals purchased as vealer mothers, or a bull that is put with cows and susceptible calves.
Close contact with dairy cattle, dairy production and former dairy pastures pose critical risks.
Beef herds in the Management Area—other than CattleMAP or Beef Only herds—also present a real risk.
To manage the risk of introducing a disease, producers should always:
Related links
Page reviewed: 02/11/2016